P
reschool Tuition Singapore (K1/K2

)
MOE-Kindergarten K1 and K2 in Singapore
The Ministry of Education (MOE) will be running 18 new Kindergartens Centres in various part of Singapore. With the opening of the 3 new kindergartens in Punggol, there will be a total of 18 MOE-run kindergartens next year in Singapore.

Preschool Education
1) MOE is piloting 15 Kindergartens Centres in the last 3 years.
2) MOE is working with the Ministry of Social and Family Development and operators to expand capacity and raise early childhood education standards, through the new Early Childhood Development Agency.
3) It provides an additional support to boost the basic literacy and innumeracy skills assistance to more Kindergartens Centres.
4) It plans to extend up to 22 more primary schools to help students with special needs education (Dyslexia, ADHD, and Autism) to build strong foundation in English language literacy and innumeracy skills.
Kindergarten Education: First Step to Learning

Preschool K1~2: The Early Childhood Education before entering primary school is essential in preparing the child cognitively and emotionally. There are certain rules on social behaviour and some cognitive skills that can be learnt that will prove to be useful later on, not just in the higher level of learning but in future working life.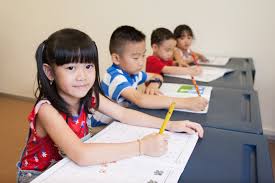 Home Tuition Fee (Rates per hour)
| | | | |
| --- | --- | --- | --- |
| Student Level | Undergrad A-level | Full-time tutor (Degree) | Ex-Teachers |
| K1~2 | $25-28 | $30-35 | $50 |
| Pr1 | yr1 | $25-30 | $30-35 | $50 |
(We reserved the rights to change the rates at any time)
Request for Private Home Tutor
To engage a private home tutor, please submit the "Request-Tutor-Form" or Call us : Mobile: 9385-5548 for Assistance. We also accept voicemail, texts, What'sApp if you want us to call you. We will find a suitable home tutor for you, as per your Request-Tutor-Form.
Feel free to browse the links on this site for more information.
| | | |
| --- | --- | --- |
| Tel:9385-5548 | Request-Tutor | Tel:9385-5548 |
Subjects - Home Tuition Services
---