Phone Call: 6962-1165
WhatsApp us: 938-55548
#42: P
reschool Tuition Singapore (K1, K2

)
MOE-Kindergarten K1 and K2 in Singapore
The Ministry of Education (MOE) will be running 18 new Kindergartens Centres in various part of Singapore. With the opening of the 3 new kindergartens in Punggol, there will be a total of 18 MOE-run kindergartens next year in Singapore.

Compulsory Education was implemented in Singapore in 2003. The first cohort of pupils under Compulsory Education is Singapore Citizen children born between 2nd January 1996 and 1st January 1997 who are residing in Singapore.

Preschool Education
The main aim of a pre-school is to start building the basis foundation for the young children embarking on their first step in a journey of lifelong learning. The learning starts as young as 2 years old in nursery classes for 2 years. Thereafter, another 2 years in the Kindergartens classes to learn the Social Consciousness, Personal Responsibility, Independence, Life Skills and Personal Attention including basis English, Mathematics and their mother tongue.
Social Consciousness: Children are guided to learn from one another, building their communication skills, leadership ability and spirit of cooperation.

Personal Responsibility: A stationery store created especially for children allows them to build their financial skills and responsibility.

Independence: Give children the tools they need to search out solutions to the obstacles they face.

Freedom to Learn: A structured, supervised environment lets the children choose not just what they want to learn, but how they want to learn.

Life Skills: Playrooms provide children with opportunities to build their motor skills, concentration spans and emotional self-regulation.

Personal Attention: Low student-teacher ratios starting at 1 teacher for every 6 children in nursery help ensure that every child enjoys individual attention.
MOE Kindergartens in Singapore
MOE is piloting 15 Kindergartens Centres in the last 3 years.

MOE is working with the Ministry of Social and Family Development and operators to expand capacity and raise early childhood education standards, through the new Early Childhood Development Agency.

It provides an additional support to boost the basic literacy and innumeracy skills assistance to more Kindergartens Centres.

It plans to extend up to 22 more primary schools to help students with special needs education (Dyslexia, ADHD, and Autism) to build strong foundation in English language literacy and innumeracy skills.
P

reschool Tuition
7 New MOE Kindergartens in Singapore
Here are the names and details of the 7 new MOE Kindergartens:
MOE Kindergarten @ Greendale
Greendale Primary School, 50 Edgedale Plains, Singapore 828848

MOE Kindergarten @ Cedar
Cedar Primary School, 15 Cedar Avenue, Singapore 349700

MOE Kindergarten @ Mayflower
Mayflower Primary School, 200 Ang Mo Kio Ave 5, Singapore 569878

MOE Kindergarten @ Meridian
Meridian Primary School, 20 Pasir Ris St 71, Singapore 518798

MOE Kindergarten @ Tampines Primary
Tampines Primary School, 250 Tampines Street 12, Singapore 529426

MOE Kindergarten @ West View
West View Primary School, 31 Senja Road, Singapore 677742

MOE Kindergarten @ Zhenghua
Zhenghua Primary School, 9 Fajar Road, Singapore 679002
Kindergarten Education: First Step to Learning
Preschool N1~N2 and K1~2: The Early Childhood Education before entering primary school is essential in preparing the child cognitively and emotionally. There are certain rules on social behaviour and some cognitive skills that can be learnt that will prove to be useful later on, not just in the higher level of learning but in future working life.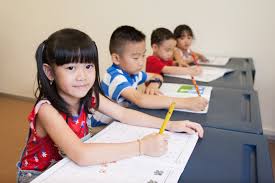 Home Tuition Fee (Rates per hour)
| | | | |
| --- | --- | --- | --- |
| Student Level | Undergrad A-level | Full-time tutor (Degree) | Ex-Teachers |
| K1~2 | $25-28 | $30-35 | $50 |
| Pr1 | yr1 | $25-30 | $30-35 | $50 |
(We reserved the rights to change the rates at any time)
Request for Private Home Pre-School Tutor
To engage a private home preschool tutor, please submit the "Request-Tutor-Form" or Call us : Mobile: 9385-5548 for Assistance. We also accept voicemail, texts, What'sApp if you want us to call you. We will find a suitable home preschool tutor for you, as per your Request-Tutor-Form.
Feel free to browse the links on this site for more information.
| | | |
| --- | --- | --- |
| Tel:9385-5548 | | Tel:9385-5548 |
Subjects - Home Tuition Services